In Progress Spheres of Influence
03-21-2017, 12:29 PM
(This post was last modified: 03-21-2017 02:21 PM by Galloglasses.)
Galloglasses
Possibly a Faerie

Posts: 3,789
Joined: Apr 2013
RE: Spheres of Influence
Herinhia understands the concerns, but emphasises the need for the sole investigation, too many cooks spoil the broth and the more factions involved only further fans suspicions and causes more opportunity for misgivings let alone planting or covering up evidence. In essence, overseers would only result in Herinhian investigators being distracted while keeping eyes on the observers and only result in wasting more time.

But in a concession, Herinhia will allow the body checking of its investigators as they enter and leave the site, to assuage concerns of any false tampering by bringing in false evidence and to prevent Herinhian investigators from sneaking out any intact technologies.

Otherwise time is of the utmost importance.
---
03-21-2017, 12:33 PM
Anomaly
what does it do? what does it do?

Posts: 2,889
Joined: Apr 2013
RE: Spheres of Influence
Mortemia thinks this argument is tiresome, and trusts Herinhia enough to not screw everyone else over. She simply threatens to do "all kinds of unpleasant things" if Herinhia does screw her over.

She's heading back to Strasidel herself. Good luck, nerds.
03-21-2017, 12:54 PM
Vancho1
"A brave little theory" - Prokhor Zakharov

Posts: 1,866
Joined: Apr 2013
RE: Spheres of Influence
That is acceptable. General Hasan trusts that those remaining will check the investigators sufficiently, and that Herinhia will act in good faith.
---
The one, the only, Vancho!
03-22-2017, 01:01 AM
Palamedes
The Witchiest

Posts: 7,726
Joined: Apr 2013
RE: Spheres of Influence
Zo is fine with this level of security, and is also willing to offer what small supply of scrying mirrors we have to help with the security of the investigation if Herinhia wishes.
03-22-2017, 02:17 AM
Galloglasses
Possibly a Faerie

Posts: 3,789
Joined: Apr 2013
RE: Spheres of Influence
Without any further objections, Herinhia engages in the investigation with at least 15 specialist paladins from each of its respective orders as well as one more from the Outremarian's guard itself to use their skills to investigate the destroyed fortress for traces of what caused the explosion and to find any salvageable technology that may have been lost.

They will also submit to the body checks going into and out of the site.
---
04-03-2017, 05:19 PM
Protoman
RIDE THE WAVE OF VAPOR

Posts: 927
Joined: Jul 2013
RE: Spheres of Influence
The Consul is Dead, Long Live the Consul
Word arrives from Kalvesiya:

Asena Volkov has died. Power has been transferred to her daughter, sixteen year old Tsura Volkov. She has taken this position quickly and is initiating what she calls "a got-damn internal affairs blitz," reaching out to tribal leaders and heads of the various departments of government in an attempt to bring stability to the state her mother left behind and work towards rebuilding a new Amaro Zor.
Whether or not her mother's centralization policies will continue or be relaxed under Consul Volkov II has yet to be seen. All that's known is that she's promised a "breatha fresh air" for the new Amaro state.
04-04-2017, 12:19 PM
Galloglasses
Possibly a Faerie

Posts: 3,789
Joined: Apr 2013
RE: Spheres of Influence
Herinhia announcers its findings on the destroyed area after emerging.

We managed to deduce that the explosion was caused by some party setting explosive charges on the main power core, causing it to explode catastrophically. We managed to find traces that indicate the explosive charges used were dynamite. Addoban and his troops do not, to the best of Herinhia's knowledge, appear to have adapted or copied this technology to us and do not seem to have the technology with them on their bodies or ruins despite this technology being available on the free market.

As a result, this was a clear result of sabotage after the castle was shot down, but Herinhia's investigators were unable to determine any evidence as to the identity of the exact culprits. Unfortunately, short of some outside powers managing to sneak through all of the Alliance troops around the destroyed castle, plant the explosives and escape undetected, the implications are clear for those nations who had troops on the ground during the time period it occurred.

In happier news, they were however, able to recover one of the lost technologies, namely Artificial atmosphere generation. Herinhia submits its evidence and technological discovery with the other Great Powers as agreed upon, and agrees to have its investigators pat down after exiting the ruins.
---
04-04-2017, 12:52 PM
Anomaly
what does it do? what does it do?

Posts: 2,889
Joined: Apr 2013
RE: Spheres of Influence
Mortemia claims innocence, on the grounds that she was really fucking interested in studying that power source and only an unfathomable
idiot
would do something as
BARBARICALLY, IMPOSSIBLY STUPID
as blow up such a valuable item of research. Hell, she'll devote some investigators to help determine who did this.
04-04-2017, 02:38 PM
Palamedes
The Witchiest

Posts: 7,726
Joined: Apr 2013
RE: Spheres of Influence
Arcavat also offers resources to investigate this matter, and thanks Herinhia for its efforts and recovery of one of the lost technologies.
04-05-2017, 12:56 PM
(This post was last modified: 04-05-2017 12:56 PM by Vancho1.)
Vancho1
"A brave little theory" - Prokhor Zakharov

Posts: 1,866
Joined: Apr 2013
RE: Spheres of Influence
T

he Eorelan Republic,
Thanks the Herinhian investigators for their hard work
in retrieving the atmospheric generation technology.
As there is a possibility of potentially reconstructing
more of the technologies, the Republic proposes to lend
personnel to this task.

We are prepared to send to the Heart of the World
our genius scientist Mira Napa, who with only a few
months' work managed to recover some of Bietz's
inventions. We hope that her mind, when applied to
this task, will allow more technology to be recovered.
We also propose, if other powers do not object,
to send the investigators from Eorelan National
Intelligence to the rubble. They will of course be
subject to the same scrutiny as Herinhia's paladins,
and may perhaps uncover more evidence as to
which among us, if any, set the traitorous charges.
---
The one, the only, Vancho!
04-05-2017, 01:06 PM
MQuinny1234
Totally not a Witch

Posts: 2,359
Joined: Aug 2013
RE: Spheres of Influence
Rudahog believes that there the inclusion of any other "investigators" into the remains of the castle is not worth the complications it will bring and will only allow the saboteur to hide their tracks. Ultimately though, they'll follow the lead of Herinhia's decisions in this matter and support them.
---
"One day you wake up and realize the world can be conquered." - Doctor Impossible
04-05-2017, 03:09 PM
Protoman
RIDE THE WAVE OF VAPOR

Posts: 927
Joined: Jul 2013
RE: Spheres of Influence
Consul Tsura has made preparations to begin investigations, but will hold off if requested!
05-02-2017, 03:23 PM
Demonsul
Don't Forget To Hit Reply All

Posts: 3,630
Joined: Apr 2013
RE: Spheres of Influence

The months flit by, the year growing old. Reports from the west finally arrive – Addoban's fleet is in disarray, his many ships abandoning his cause with his death. Some of them were seized by warlord governments arising from his occupations, while others have turned to piracy.

Calm on the continent was shattered by the thunder of revolution in Rudahog. Some forces within the government, particularly among the cadre of supersoldiers, were clearly opposed to the extreme actions he took during the war, perhaps including the murder of Rudahog citizens from prisons to produce his skeleton army, and used them as an excuse to oust him. Hundreds of bureaucracy and military 'traitors' were rounded up and put on trial for crimes against the people and corruption while supporting the Dark Hand's regime. The Dark Hand himself was arrested after a day and a night of fighting in the palace, and Mort, recognizing the changing tide, has surrendered peacefully to the new regime.

Arising from the chaos, Jagan Catai has taken the mantle of Empress of Rudahog, seeking to restore some of the classical glory of old Rudahog by restoring the old royal monarchy with new imperial splendor. Welcoming her lost 'siblings' who had been with Bietz in Arcavat back into the state, she promised a new dawn for Rudahog and an end to the senselessly brutal tyranny of the Dark Hand's rule. Long live Empress Jagan I.

In Amaro Zor, a much less spectacular leadership change occurred as Tsura, daughter of Asena, supported rival ataman Kisaiya of the Lovoro tribe for the position of consul. Kisaiya, an older ataman little-known internationally, took over leadership of the Lovoro after the attack that claimed the life of their last ataman eleven years ago, and will now take over as consul of the Amaro Zor.

A great change has come over the patriarchs, observed by many across the Heartlands. During and after the final battle where Addoban was defeated, they withdrew from society, meeting up in grand conclaves of dozens of patriarchs to discuss what had happened. When they emerged, they were physically changed. Their phantasmal robes no longer concealed their appearances – proud, old faces, of deep-wrinkled humans, long-bearded dwarves and white-haired elves, were now visible beneath their now-silvery robes, and the spectral chains and whispers no longer haunted them. They seemed altogether more natural, more wholesome than they had before, as if they had been healed of a great wound, or had some curse lifted, and when they went out from their conclaves, they went with more vigor than they had ever held as patriarchs before.

One conclave in particular converged on a village in Eorela, where their arrival coincided with a normally horrific event. A local wise woman had started to 'ascend', which many had recognized as inevitably ending in her destruction. She was dreading it. But instead she, where thousands of women before her had been torn apart, survived. She awoke clad in silver robes, shocked and surprised, but nobler and wiser than before. The patriarchs were shocked, then jubilant, and took her with them when they left, for they had much to talk about.

In Rudahog and Arcavat, people investigated the sites where great pillars of light had descended during the battle. They discovered that areas of the bedrock were replaced with loose rubble, as if something massive had been buried hundreds of years ago. Buried deep in the stone, they found great, rusted pillars of solid metal, with structural similarities to Addoban's coastal defense towers. They were completely featureless, and yet thrummed with powerful magic poorly understood. Even as they excavated them, they noticed that the power in the pillars was slowly fading, as if the moment of their purpose had already come and gone.

In the far southwest, Amaret Heuris has occupied a number of islands that were once controlled by the Heartland Great Powers. They seem intent not on annexing them, but forcing them to become independent or otherwise liberating the Heartland presence on the islands.
05-02-2017, 04:07 PM
Cidellus
Cidellian Emperor

Posts: 4,135
Joined: Apr 2013
RE: Spheres of Influence
The Tsar is surprised by the sudden shift in power in Rudahog! The Dark Hand did great things for Rudahog in his time, putting an end to the chaos and unifying the disparate factions into a coherent whole. However, while he has valued his working relationship with the Dark Hand for decades, he is in agreement that the crimes perpetrated by his regime towards the end of the war were inexcusable. In any event, he offers his congratulations to Empress Jagan for her accession to the throne, and hopes that her leadership brings Rudahog into a prosperous future.

He also offers his congratulations to First Consul Kisaiya. While he had been expecting Tsura Volkov to take the reigns of leadership, he has no less respect for the woman chosen by the Atamans, and hopes that her Consulship guides the Amaro Zor into a new era of prosperity.

Finally, the Tsar congratulates the Patriarchs (and Matriarch!) on the positive changes that seem to have befallen their kind. He would be interested in meeting with the men and woman when they have the time, if they would be willing to share what transpired.
05-04-2017, 10:32 PM
Bramzter
Master of Mismanagement

Posts: 1,378
Joined: Apr 2013
RE: Spheres of Influence
Friends, War-Brothers and Fellow Heartlanders,

With the news of the destruction and scattering of the last remnants of Abbadon's warfleet we can now focus in the rebuilding of the damage that Abbadon did to the nations of the heartlands, The sacking of Setradine, the devastation of the northern front lines in Wheatvale and in the south in Acrevat and Eorlia,the damage to the city of Amaro Zor , the damage from explosion in Basvia and the lands lost and affected under the blight.. I think both the Heartlander Coalition and the Great Alliance of Kind would agree that the entirety of the heartlands needs to be strong if we are to stand up to something even greater then Abbadon.

These matters just like our coordination in the war, the rebuilding efforts should also be a matter of cooperation between the parties affected in the matters, Granted to avoid stifling the works, i would suggest dividing the rebuilding efforts into groups that directly relate to the rebuilding effort, For example a group regarding the blight would include us, Kalvesyia, Rudahog, Terralon and Wheatvale as the directly affected, with nations who offer their assistance welcome to get involved.

To that end, The Rauthurian Conclave would like to announce that we are working on establishing a safe roadway from the north to the south to replace the one that has been made impassible by the blight, Connecting our city close to the Amaro/Rudahog border as its entrance and then exiting into a spot that will be made in negotiations with northern powers, We are also willing to make a entrance toward the north-east allowing the blight to be circumvented entirely by traders.

We are hopeful that both changes in our government and Rudahog's government does not diminish the trust and good relationship between our countries we have had in the past. As both countries that have recently shifted their style of leadership, We would have much to gain from our continued diplomatic standing.

We also give our congratulations to Amaro Zor's new Consul Kisaiya, While our nations had our disagreements in the past, we hope to refresh our diplomatic relations with this new change in both our leaderships.

And we are happy for the Patriarchs and their new enrichment. We are sure this change can be nothing but a benefit to the rest of the world and maybe a begin of something new.

On the suggestions addressed before, i would hope to hear your opinions on these matters soon.

- Isodorus V, High Councilor of the Rauthúrian Confederacy.
05-05-2017, 04:41 AM
(This post was last modified: 05-05-2017 05:07 AM by Protoman.)
Protoman
RIDE THE WAVE OF VAPOR

Posts: 927
Joined: Jul 2013
RE: Spheres of Influence
I welcome the congratulations of both the Tsar and the High Councilor, and return all congratulations to the latter. To Isodorus: I have not forgotten the evils of a decade ago, of the murder and framing of Hill Men in the attack on Amaro Zor. As it is in the interest of the wicked for us to fight, it is for the sake of justice that I wish for peace. I sincerely hope that friendship can bloom between our nations, and that the tragedies of the Partition of Faralon may be overcome.

This wish extends beyond our immediate neighbors. The end of this war is a chance for unprecedented peace in the Heartlands, and I invite all of you as friends to the table. The era of war between great powers has perished. Some may mourn days of bygone glory; I, instead, weep in joy for the days our children and grand-children (and, for some of us, great-grandchildren!) will spend without the threat of destruction weighing on their minds. The destroyer is no more - let our petty rivalries be gone with him.

To Her Majesty, Jagan, First Empress of a reborn Rudahog: I look forward to your rule with, I confess, some trepidation - not the trepidation of one seeing a disaster brewing before their very eyes, but of one watching a sculptor carve out the last few chips from his masterpiece. I have full faith in your abilities, but fear for you as well. The office of Empress is an unenviable one, and each choice you make may determine your nation's fate. Fear not, though, as you are not alone. The people of Amaro Zor and I will support you however we best can in the coming years as your stalwart allies, through and through. If I may offer up my advice, built upon years of experience without rambling on as the old crone I am, I would boil it down to this: The weight of office rests heavy on one's shoulders, and it demands self sacrifice, but take heart, for so long as you rule with justice at your side and righteousness in view, you will die a death not many have the privilege of experiencing - that of a life well lived. Best wishes, and best of luck.

On the topic of the remnants of the pillars of light: I trust that an international commission will be convened to research these, just as happened with the sky-castle. I sincerely hope that nothing explodes this time.

Lastly, of Amaret Heuris, my thoughts are thus: Our actions in seizing their aurichalcum reserves were unjust means to a just end with a just cause. The ultimatum they've offered up to the colonies they've captured are unjust means to an unjust end with a similarly just cause. While their indignation is understandable, and while peace remains my eternal desire, we must respond to such threats with similar indignation. Amaro Zor condemns Amaret Heuris for its unjust seizure of territory, and demands that the right of migration owed to all all free-born men and women be recognized.

With all that formal hoo-hah out of the way, I will offer my sincerest congratulations to the Patriarchs and their new sister. May your light continue guiding the people for decades to come. I also offer up my congratulations to all people of the continent, political or otherwise: The shadow that has loomed over generations has been vanquished. We have finally killed Addoban. It is my great pleasure to announce Amaro initiatives to support rebuilding in the Heartlands, as proposed to my protege and colleague, Tsura Volkov. We ask all other nations who can afford to do so to join us, as the devastation in Basvia, Arcavat, and Wheatvale cannot be ignored. Together we are strong, and together we will rebuild.

For those of you who were untouched by war: Rest easy. For those of you who have suffered: Help is on its way.

Sincerely,
-Lady Kisaiya of the Amaro Zor
05-05-2017, 06:28 AM
Galloglasses
Possibly a Faerie

Posts: 3,789
Joined: Apr 2013
RE: Spheres of Influence
Herinhia announces its surprise at the change in government in Rudahog but refrains from making a statement officially. It will await till the dust has settled before determining possible reopening of diplomatic relations with Rudahog.

In the meantime Outremarian Justinianus proposes to prosecute the war against the Addoban remnants and piratical warlords plaguing the nations of the Great Western Desert.

While our navy has been decimating as has most of our fleets, Herinhia is in a unique position in its ability to break through the pirate picket fleets gaurding the western desert, paladins on our transport boats can wreck utter havoc on such weak enemy fleets on their own merit and would make excellent frontline troops to establish a beachhead on the western desert. Clearing a path for the transport fleets of the other nations to follow in the wake of our assault and to flood into the continent to mop up the remnants of Addoban's Bleak Crusaders and pretender warlords.

Herinhia makes no claims on any part of the Western Desert and will respect the decisions of the other Great powers in regards to it. It only asks consideration be granted to the Four Kings of Sydnia who fought bravely against Addoban's Bleak Crusade before falling, and that if at all possible that they be restored as they have earned it. Otherwise, it has no objections to the status quo ante or whatever the other powers have decided.

Outremarian Justinianus awaits the response from the other rulers.
---
05-05-2017, 06:55 AM
Palamedes
The Witchiest

Posts: 7,726
Joined: Apr 2013
RE: Spheres of Influence
Zo offers his congratulations to the new Consul, and hopes that her reign will be just and prosperous. He also thanks her for her promises of aid, and hopes that with the new change that friendly relations between Amaro Zor and Arcavat can return.

He also offers a hand of friendship and congratulations to the new Empress of Rudahog. Her nation and Arcavat, after decades of unease, had finally began to mend their relationship until the Dark Hand murdered Basvian citizens, and Zo is glad that Jagan would not stand for it either. Hopefully now Arcavat and Rudahog can look forward to a future as not uneasy neighbours but as friends.

Finally, on matters of liberating the desert, Zo points out the wisdom in using the coastal area established by Federine as well as the island Arcavat has control of just off the coast to stage the saving of the Four Kings and further efforts into the desert states itself.
05-05-2017, 08:31 AM
Galloglasses
Possibly a Faerie

Posts: 3,789
Joined: Apr 2013
RE: Spheres of Influence
Justinianus agrees of using the Arcavat controlled island and the Fetderine beachhead as springboards for a liberation of the Four Kings. However he maintains on breaking the piratical fleets to give Heartlander transport fleets free reign of the seas and will aim for a Paladin beachhead of the bay of Tevun to control the strategic choke point and natural port.
---
05-05-2017, 09:21 AM
(This post was last modified: 05-05-2017 10:04 AM by Protoman.)
Protoman
RIDE THE WAVE OF VAPOR

Posts: 927
Joined: Jul 2013
RE: Spheres of Influence
Amaro Zor will lend its aid as well in escorting transports and breaking the backs of the pirates. We will liberate the four kings, then establish a beachhead on the northern penninsula from which to ferry down allied troops. From there, we will push south through the continent, granting whatever territory we gain to its proper sphere-holder. We will not take part in looting and pillaging, as it is both immoral and an inefficient means by which to gain the reparations we all justly deserve.
05-07-2017, 09:29 AM
Bramzter
Master of Mismanagement

Posts: 1,378
Joined: Apr 2013
RE: Spheres of Influence
Rauthúria will lend its transports and a detachment of flyer troops to this assault, We will also provide our infantry to help in the landings on the lawless pirates and the remnants of Abbadon's toops. We do not have and will not press any claim on the territories in the desert, The only recompense we ask aside from the global reparations is to have full freedom to study and take samples and plans any of Abbadon's research we might find in our offensive which we can use to counteract the devastation the blight is currently doing to our lands.

We hope these terms are agreeable.
05-07-2017, 09:42 AM
Vancho1
"A brave little theory" - Prokhor Zakharov

Posts: 1,866
Joined: Apr 2013
RE: Spheres of Influence
The Republic congratulates the new administrations of the Amaro and Rudahog. We hope that the new Empress will be a more fair and just ruler than her predecessor, and that the Amaro remain together and strong in spite of their exile.

We are willing to send our troops, formerly on the Wheatvalean front, to aid the recapture of Sydnenia. After this we shall evaluate the situation and deploy wherever it is necessary. The Republic also desires no looting and a minimum of destruction - we would like our colony undamaged, and the rest of the lands restored along similar lines to before. We of course do not oppose reparations, and will indeed support such payments from the desert nations to the Heartlands to compensate for their nonresistance to the evil Addoban.
---
The one, the only, Vancho!
05-07-2017, 10:22 AM
Palamedes
The Witchiest

Posts: 7,726
Joined: Apr 2013
RE: Spheres of Influence
Arcavat will lend its magepower and transports towards liberating the desert, of course. However, we believe that unless there is a vital reason for pushing from the north, that using established allied positions and then the Four Kings as a springboard for breaking the strongest warlord powers without needing a major overseas naval invasion.

In addition, if Wheatvale and Teor Aradel consent I would suggest using the northern desert isle for international efforts to understand Addoban's technology. The facilities are already developed, and it already acts as a sort of international territory, so significantly less effort and investment would be needed than in setting up a new location.
05-07-2017, 10:47 AM
MQuinny1234
Totally not a Witch

Posts: 2,359
Joined: Aug 2013
RE: Spheres of Influence
Empress Jagan I thanks any compliments given and accepts those offered friendships on behalf of Rudahog. She hopes that her rule over Rudahog will be a much brighter chapter in it's tumultuous history. To begin, she intends to see Rudahog's strengths brought to bear against those remnants of Addoban's forces.

As for the research of Addoban's technology, Rudahog has planned to construct a research center in it's small territory just south of Herinhia, as a future point of combined research with Herenhia or other potential countries. For the researching of Addoban's technology, given Herinhia's spotless history with the investigation and international reputation, alongside a brand new research station and it's location, I feel it would be a better potential location. It's first purpose would be as a headquarters for all Heartland researchers to study the claimed technology, when that is all done and the results and fruits of labour shared, Rudahog and Herenhia would use the building for their own purposes.
---
"One day you wake up and realize the world can be conquered." - Doctor Impossible
05-10-2017, 01:21 PM
Demonsul
Don't Forget To Hit Reply All

Posts: 3,630
Joined: Apr 2013
RE: Spheres of Influence
GREAT POWER TROOPS FIRE ON ONE ANOTHER IN AHSAR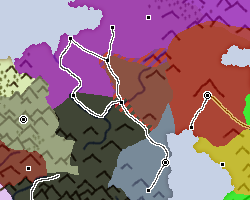 Disagreements between the Great Powers in the partition of Ahsar have resulted in troops from different sides moving into the same areas. Tensions were running high as local Rudahogi and Aradel commanders demanded that each other withdraw their troops from the city of Vielzy, while in the north, Strasidel and Teor Aradel patrols ranged over the same mountains.
The shots were fired on the road southeast of Vielzy after patrols from Rudahog and Teor Aradel bumped into each other at night, and neither side is sure who fired first, but the Aradel patrol was the first to withdraw from the skirmish and there are a handful dead soldiers on both sides. The situation may militarily escalate if a political solution cannot be found.
05-10-2017, 02:02 PM
Kocel
Potential Future Jerkwad Mentor

Posts: 3,110
Joined: Apr 2013
RE: Spheres of Influence
Wheatvale denounces violence between former Alliance nations and asks that they make great efforts to sort this out civilly. If they can't, Wheatvale at least asks them to avoid any superweapon use. Wheatvale currently has other things to worry about, and won't intervene as long as the risk of world destruction isn't on the table.

"We just finished our big gat-damn war, don't start another one, ya dinguses."
05-12-2017, 07:29 AM
MQuinny1234
Totally not a Witch

Posts: 2,359
Joined: Aug 2013
RE: Spheres of Influence
Rudahog refuses to give up any ground of Ahsar, but also agrees with Wheatvale's goals for this to be solved civilly. To whit, Rudahog will collect their dead from the scene and allow Aradel troops to reclaim theirs also. Beyond this though, Vielzy will not be given up nor the road connecting it to Somillia.
---
"One day you wake up and realize the world can be conquered." - Doctor Impossible
05-12-2017, 12:28 PM
Demonsul
Don't Forget To Hit Reply All

Posts: 3,630
Joined: Apr 2013
RE: Spheres of Influence
TROOPS POUR INTO VIELZY, LEAVE THE NORTHERN CONTESTED ZONE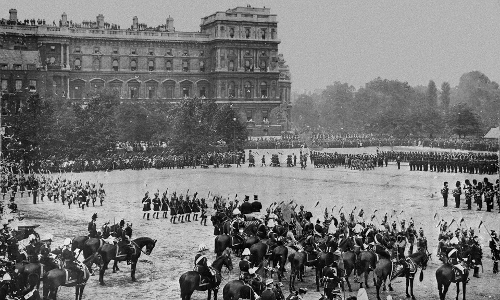 Following conflicts outside the city, the Empire of Rudahog has moved more troops into Vielzy in Ahsar. Columns of Rudahogi troops formed up outside the former parliamentary palace, attempting to demonstrate their control of the city. Other parts of the city remain occupied by Teor Aradel troops, however. With tensions rising, soldiers are keeping to parts of the city occupied by their countrymen, and the city has become a powder keg.
In the contested zone between Strasidel and Teor Aradel, both the Dragon and Mortemia have withdrawn their troops from the contested area, leading to a drop in tensions between the two. Whether this is a temporary attempt at deescalation to avoid conflict, or the beginning of a more permanent settlement between the two Great Powers, is currently unknown.
05-18-2017, 03:16 AM
(This post was last modified: 05-18-2017 03:24 AM by Demonsul.)
Demonsul
Don't Forget To Hit Reply All

Posts: 3,630
Joined: Apr 2013
RE: Spheres of Influence
FIGHTING BREAKS OUT AS EVERKEEP SUMMIT STALLS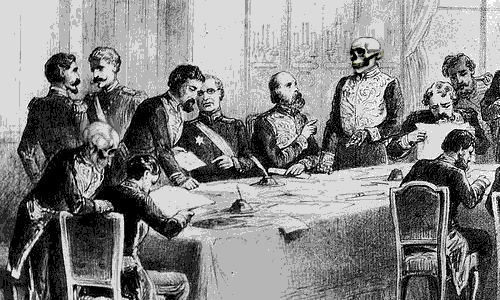 The diplomatic summit at Everkeep in Herinhia is making little in the way of progress. Not only are all sides seeking to maximize their claims, they have arrived with laundry lists of complaints about each other. Both the Rudahog and Teor Aradel representatives were, for the first half of the summit so far, entirely insistent on receiving the city of Vielzy, and Mortemia's diplomats refused to even consider giving up land, spending much of the summit sitting in eerie undead silence.
Articles included accusations by the Aradel delegation that Rudahog deserved a smaller share than them because of the atrocities of their past regime, and insistence that the claims of the 1351 Conference of Amaro Zor should take precedence above all else. The Rudahog diplomats were even more forthright, insisting that the Dragon must have deliberately kept troops back in order to be able to force Rudahog and Strasidel to bear the consequences of being warmongers whilst reaping the spoils, among other accusations.
Blame was thrown around regarding who was responsible for the border incident after Rudahog's delegation claimed that the Dragon deliberately spared the troops for it. Furthermore, much of Aradel's delegation seemed shocked and initially denied claims that their spies had been working in Ahsar against Rudahog, though the leader of the delegation later confessed that he knew about it and repeated that it had been to target the old regime. Negotiations began for alternatives to Rudahog giving up Vielzy, but with Mortemia's delegation unwilling to budge on
anything
and Aradel insisting that they get more land area than Rudahog to make up for it, the summit again stalled. Overall, it was a very unprofessional showing from all involved.
The tense situation in Vielzy continued throughout the summit, as neither Aradel nor Rudahog withdrew their troops from the city. Rudahog had even moved in extra artillery with air-burst shrapnel shells. There are conflicting versions of events as to what happened next - Aradel's officers claim a Rudahogi patrol opened fire on an Aradel checkpoint that obstructed a road, while Rudahog's officers claim that they were fired on by the checkpoint without provocation. However, as both sides called reinforcements into the battle, the conflict rapidly spread to encompass the whole city, which has become a warzone.
With Great Power troops now engaging in open warfare against each other in the city of Vielzy, the situation has escalated to an extremely dangerous level.
05-18-2017, 04:42 AM
Vancho1
"A brave little theory" - Prokhor Zakharov

Posts: 1,866
Joined: Apr 2013
RE: Spheres of Influence
The Republic denounces this senseless violence, and calls for a speedy and peaceful resolution to this conflict. There are still remnants of Addoban's forces to deal with; we simply cannot afford petty conflict over the division of Ahsar. The Slovei calls for renewed peace talks and a demilitarization of the disputed territory until borders can be agreed upon.
---
The one, the only, Vancho!
05-18-2017, 04:51 AM
MQuinny1234
Totally not a Witch

Posts: 2,359
Joined: Aug 2013
RE: Spheres of Influence
Empress Jagan, in the interest of minimising the continued damage and suffering of the citizens of Ahsar, and to stop the likelihood of more clashes whilst attempting diplomacy, orders the falling back of all but a skeleton crew from Vielzy and the contested areas, made up of her more high quality soldiers. This is done in the good faith that Aradel will take likewise suit, and that both sides command their troops to stop this pointless warring in Vielzy. She also requests that Herinhia investigates the source of this recent clash and sends some troops to oversee the situation directly as a neutral party.
---
"One day you wake up and realize the world can be conquered." - Doctor Impossible
05-18-2017, 04:57 AM
(This post was last modified: 05-18-2017 05:12 AM by Demonsul.)
Demonsul
Don't Forget To Hit Reply All

Posts: 3,630
Joined: Apr 2013
RE: Spheres of Influence
Withdrawal of troops from both sides have led to the city being occupied only by a small force of Rudahogi troops, as almost all of Rudahog's army and the entire Aradel force have retreated from the city. Damage has already been done to civilian buildings and infrastructure in the spasm of warfare, and casualties on both sides and among the civilians are still being counted.

The rest of the contested zone between Aradel and Rudahog is still being patrolled by full-strength Aradel forces, and after the fighting, the small amount of remaining Rudahog forces are unlikely to trust them. Though the fighting has been stopped for now, the solution is far from permanent.

Following the withdrawal of almost the entire garrison in Vielzy, the Great Power officers are concerned that local partisan forces may start to gain strength.
05-18-2017, 01:43 PM
(This post was last modified: 05-18-2017 01:49 PM by Protoman.)
Protoman
RIDE THE WAVE OF VAPOR

Posts: 927
Joined: Jul 2013
RE: Spheres of Influence
The Amaro Response to the Ahsari Conflict
Having been called to give our opinion on the matter, the office of the High Consul submits the following statement to the international community for consideration:

Recognizing that
in these tenuous times war between the Great Powers has the potential to be disastrous, and sincerely believing that the Heartlands have seen enough bloodshed as it is, we, as a people, have a duty to do our best to ensure that the potential for war is minimized. Merely remaining silent and wagging our fingers at the feuding parties when war looms over the horizon is not sufficient to prevent violence from erupting into war, and thus we view this diplomatic statement not merely as a political act, but an ethical one.
Understanding the previous government of Rudahog's crimes, this decision is a difficult one. The Ahsari people have suffered much at Rudahogi hands - any who deny this are guilty of an inexcusable crime. However, the current government of Rudahog took power in protest of these atrocities, and this must not be overlooked. I have full faith that Empress Jagan understands her debt to the Ahsari people, and thus am willing to give Rudahog a chance at redemption.
If my decision is not to be governed by the treatment of the Ahsari people, then, the next greatest moral imperative is the prevention of war and the continuation of justice. As the quiet third-party, Mortemia, has expressed support for the original borders, that more Rudahogi and Strasidelian men and women died in the fight for this land than Aradelians did, and that there is no reasonable expectation for a sustainable demilitarized zone,
the Amaro Zor have no choice but to express our support for the justice of Rudahog's cause.
While this is viable to change if any more crimes are committed against the Ahsari people by any side of this war, we see this as the only sustainable way to create peace and minimize bloodshed. Whatever the result, we ask that this conflict be ended as soon and as peacefully as possible.
Sincerely,
Lady Kisaiya of the Amaro Zor
05-19-2017, 04:11 PM
Vancho1
"A brave little theory" - Prokhor Zakharov

Posts: 1,866
Joined: Apr 2013
RE: Spheres of Influence
The Republic, having weighed both sides and the justice of this case, has reached a decision with regards to the current conflict. In my capacity as Slovei for the people of Eorela, I echo the Amaro sentiment that war between the Great Powers of the Heartlands is a disastrous path, and thus the Republic has been forced to come to a decision on this matter. I know that Rudahog has wronged many, and indeed the previous regime was a terrible one which committed crimes against the very basic moral fiber which guides us. However, I also recognize Empress Jagan's attempts to make amends for these crimes, and though it will take much repentance, I have decided to not consider the previous regime's actions the primary cause in determining the side to support in this matter.
I am a firm supporter of peace and negotiation, and as much as I wish this could have been resolved without conflict, I must acknowledge that it is Aradel which has demanded more than its contribution to the war allows. I have examined the facts, and it is clear that Strasidel and Rudahog contributed the lion's share to the war in Ahsar. While Aradel's forces may have done good work in aiding us at the Heart of the World, there were many contributors there - surely it is a ridiculous argument to say that the Republic, for example, deserves land in Ahsar for our fighting at the Heart.
Therefore, in order to head off further violence, and hopefully foster a swift and agreeable peace between the conflicting parties,
the Republic officially supports Rudahog and Strasidel's claims in Ahsar
. I beg the Dragon of Aradel to reconsider this foolhardiness and accept the deal on the table.
Thus decreed 10/2272AA or as in the other lands 1372AT,
Zmiu Lamja,
Slovei Savoroa.
---
The one, the only, Vancho!
05-21-2017, 07:21 AM
Demonsul
Don't Forget To Hit Reply All

Posts: 3,630
Joined: Apr 2013
RE: Spheres of Influence
SUMMIT FAILS, BATTLE OF JAZINSKYBRÓD FOUGHT
The summit in Everkeep has concluded between the diplomats, but with both sides pushing for concessions that the other is wholly unwilling to give, it was inevitable that a diplomatic situation would fail. Talks eventually fell apart completely, and the summit adjourned when it became clear that the diplomats were unable to reach a settlement that would be agreeable to all the parties involved.
The fact that both Strasidel and Aradel completely withdrew their troops from the contested zone between their claims has resulted in the area no longer being occupied. It is currently unconfirmed, but it is believed that Ahsar separatists are attempting to establish some kind of rebel base in the mountains while they have the chance. This will provide them with a greater means to attack both Strasidel and Aradel forces in nearby occupation zones.
At the same time, the continued presence of Rudahogi and Aradel troops in the contested strip southeast of Vielzy has resulted in further conflicts. With all trust and patience completely eroded between the two Great Power armies involved, the patrols have more often fired warning shots and avoided each other than passing peacefully on the roads. As tensions have continued and relations continued to sour, minor skirmishes between patrols have become something of a frequent occurrence.
One incident was particularly severe, and has resulted in a comparatively significant battle. With Aradel's troops now contesting the area outside the city with far more forces than Rudahog's, they were able to call in nearby reinforcements to a skirmish between one of their patrols and one of Rudahog's. The Rudahog patrol withdrew, with the Aradel forces pursuing to push them out of the contested zone. The pursuit ended up continuing far further than the contested zone, with the combined Aradel detachment pursuing several miles into Rudahog-occupied Ahsar, to the village of Jazinskybród. It is currently thought that the Aradel force believed themselves to still be in the contested zone. At Jazinskybród, the Rudahog patrol was able to link up with reinforcements, and a brief pitched battle ensued. The battle resulted in approximately a hundred casualties in total (both sides combined) before the Aradel force was repelled.
Tensions are once again reaching boiling point, and it is unknown how the Dragon and Empress Jagan will react to this escalating situation.
05-21-2017, 07:25 AM
Galloglasses
Possibly a Faerie

Posts: 3,789
Joined: Apr 2013
RE: Spheres of Influence
Outremarian Justinianus proposes an immediate ceasefire between the great powers and offers a possible balm to calm tensions.

Without passing judgement, Herinhia offers to stand as warden of an agreed demilitarized zone in the contested regions until such a time as the powers of Rudahog, Aradel and Strasidel have come to agreement on their disputes without resulting in further bloodshed.
---
05-21-2017, 07:27 AM
RE: Spheres of Influence
The dragon will accept Herinhia as a neutral stand-in.
05-21-2017, 08:17 AM
(This post was last modified: 05-21-2017 08:18 AM by MQuinny1234.)
MQuinny1234
Totally not a Witch

Posts: 2,359
Joined: Aug 2013
RE: Spheres of Influence
Jagan will agree to the ceasefire. She states that this is in the interest of giving Herenhia time to investigate the previous clashes and actions in the contested area, to make sure that it is solely due to friction between great powers and not some remnants of past or unknown foes. Also, to allow civilians and plans to be prepared to minimise civilian and property damage in the case of legitimate conflict between us.
She also recommends that the zone between Strasidel and Aradel
not
be left open for eventual Ahsar separatists to be set up. Rudahog will do it's best to investigate recent events and skirmishes with it's own intelligence forces, especially this recent attack and push towards Rudahog's territory. Empress Jagan recommends that those Aradel troops that had reached Jazinskybród swiftly return to land more widely accepted as theirs or she will not overlook their rather aggressive attack and chase of a retreating, smaller and weaker patrol for over several miles.
It's commonly known in Rudahog that shortly after this released statement, Jagan muttered "
Believed to still be in a contested zone, my ass.
To an aide."
---
"One day you wake up and realize the world can be conquered." - Doctor Impossible
05-27-2017, 04:53 PM
MQuinny1234
Totally not a Witch

Posts: 2,359
Joined: Aug 2013
RE: Spheres of Influence
Jagan must release new information about the current prelude of military action between Rudahog, Strasidel and Teor Aradel.

Rudahog researchers in Aradel working on a joint peaceful project since before the war with Addoban, working on researching new metals and materials, have been kidnapped and held hostage. I have been told that these innocent citizens of Rudahog, will be released so long as Aradel agents of espionage and sabotage recently captured are released in turn back to Aradel. These agents have been found to be inciting rebellion and destabilising our attempts at keeping a peaceful rule over what remains of our area. These agents have been acting in such a way since before Rudahog's current regime, so this was clearly begun even before our previous leader's acts of cruelty and barbarism. The agents were even found to be attempting to break into Rudahog's communications systems, and some were found in Rudahog itself.

These actions show that this conflict is escalating beyond the matters of Ahsar itself. We had hoped that this could be kept impersonal and focused, but attacks involving matters outside Ahsar have now taken place and this cannot be accepted. This is no longer a conflict that we can view separately from Aradel as a whole or as a minor difference in opinion over just Ahsar. Rudahog demands the release of their scientists immediately, in the hopes that this slight can be viewed only as minor.

Otherwise, this will grow into a much more serious matter that will take a more greater focus of our attentions.

Empress Jagan of Rudahog.
---
"One day you wake up and realize the world can be conquered." - Doctor Impossible
05-27-2017, 04:59 PM
(This post was last modified: 05-27-2017 05:01 PM by Protoman.)
Protoman
RIDE THE WAVE OF VAPOR

Posts: 927
Joined: Jul 2013
RE: Spheres of Influence
Eorelan and Amaro Action

Kidnapping foreign scientists sent to work as part of a joint research agreement and treating said scientists as if their role is in any way equivalent to that of a spy sets a horrifying precedent and threatens the light of scientific progress in the Heartlands.

Amaro Zor and Eorela have, in light of this, decided to take joint action in trade sanctions against the nation of Aradel. In light of the delicate nature of this situation - particularly the continued existence of an unknown superweapon that was to be distributed to the Greater Heartland Powers as a whole - these sanctions will intensify should the matter continue degenerating, and, in the worst case scenario, will escalate to full embargo.

These sanctions may be avoided provided Aradel immediately releases the scientists they've unjustly taken prisoner. Should the dragon refuse to act as a gentleman, then we will be forced to act in kind.
05-27-2017, 05:02 PM
Vancho1
"A brave little theory" - Prokhor Zakharov

Posts: 1,866
Joined: Apr 2013
RE: Spheres of Influence
The Republic is shocked and horrified at the kidnapping of innocent scientists. We indeed join the sanctions proposed by the Amaro. In addition, the Aradel scientists currently in our country will be presented with two options - either submit to house arrest in the Republic or be expelled. It is with deep regret that I take these actions, but they are necessary.

-Zmiu Lamja, Slovei Savoroa.
---
The one, the only, Vancho!
05-28-2017, 12:00 PM
RE: Spheres of Influence
Before addressing the various accusations and half-truths presented by Rudahog, the dragon would like to inform the Great Powers that the skeleton horde formed from Ahsar's murdered civilians is still necromantically bound and, last that the dragon was aware, was being utilized to kill nurkum in droves in the tunnels beneath Rudahog. For someone who rebelled against her predecessor out of principle against the creation of such creatures, Jagan certainly does not seem sorry to reap the benefits of such an army for herself, now that the grisly act of bringing them into existance is out of the way. Additionally, her earlier theatrics following the battle of Jazinskybród are entirely misplaced, seeing as how the entire thing was nigh-certainly a planned trap staged by Jagan herself, or one of her commanding officers. The dragon would appreciate any additional information Herinhia might have since uncovered about the subject.
With that out of the way - Rudahog's scientists are being treated with dignity, and will be permitted to leave once the research project concludes - regardless of any and all ill-informed threats made. Speaking of, is it not odd that Jagan fails to make mention of the subject of this research - or are only Rudahog's most outspoken allies permitted to know, hm? Perhaps all the Heartlands ought to know the finer details. Rudahog, certainly, ought have due cause to be frightened of such.
Moving on, Jagan ought be very well aware that Teór Aradel's agents were ordered to cease their activities in Ahsar shortly after the cause of the grievance - the Dark Hand - was toppled. They have since been focused entirely upon uncovering the truth of the underlying interactions that have been taking place during this conflict. In their place, perhaps Herinhia's investigation shall prove thorough enough.
Lastly, the dragon's cause remains securing a fairer split of Ahsar - both out of principle, and for the sake of Ahsar itself. Between the continued existance of the soul-trapped rotting corpses of Ahsar's civilians, and the systematic, nondiscriminatory slaughter of the entire nobility of Ahsar at the Dark Hand's orders, there is significant room for doubt. While not perpetrated by Jagan, these matters are her inherited responsibility, and she has yet to take any steps towards alleviating these war crimes of her predecessor's as far as the dragon is aware. One wonders what the Ahsarites themselves have to say of
that
.
05-28-2017, 12:39 PM
Palamedes
The Witchiest

Posts: 7,726
Joined: Apr 2013
RE: Spheres of Influence
Arcavat requests that powers be able to look into both of these sets of accusations, and that both Teor Aradel and Rudahog be less obtuse about this supposedly dangerous research. Given the nature of many of the accusations and the impending conflict while the Heartlands is already in such a fragile state I believe this is necessary. Assuming the research is not hugely nefarious, we also fully stand by demands to release the civilian scientists.

Arcavat also demands that while they believe all should be given the results of the investigations given how far things have gone, Arcavat should immediately be privy to, if not directly involved in, investigations uncovering the claim of the remaining undead in Rudahog given how many of them were made of murdered people of Basvia - and therefore people of Arcavat.

Zo, Ruler of Arcavat
05-28-2017, 01:29 PM
(This post was last modified: 05-28-2017 01:51 PM by MQuinny1234.)
MQuinny1234
Totally not a Witch

Posts: 2,359
Joined: Aug 2013
RE: Spheres of Influence
If the Dragon of Aradel would like to explain exactly the fault in making use of already existent skeletons, or with the clearing of a nurkum menance, he may feel free to exactly explain it. It is true that the creation of the skeletal horde is what caused the overthrowing of the Dark Hand, but that was because of the initial slaughter that we viewed him so dimly. Is it not right to try and maximise what little good can come of the results of such an act? Either way, it is an issue that admittedly Rudahog has not publicly brought up because of the murkiness of the situation involving necromancy, so we put the decision aside in the name of practicality. If it is deemed that their remains should be totally led to rest, so be it then, if other leaders speak up for it. We will collect and identify what we can and bury them ourselves if wished. It is an ugly business and such a resolution is understandable to us.
As for the battle of Jazinskybród, Rudahog was not the one doing the chasing. If you really think that we set a "trap" in the hopes that an invading force would follow
several miles
past contested land during still attempted peace times, then you are clearly beyond talking to on such matters. We have nothing to hide involving Jazinskybród.
For the fate of my citizens, why must they remain until the project concludes? Is Rudahog still to be privy to it's results when it "eventually" is completed? Or are they to be forced to work on it irregardless of their will? Their situation and fate has not been made clear. At the moment, it appears to me that at best, you have kidnapped them and at worst, enslaved them. As for the research project and it's nature, as far as our records show, the reasons to keep it secret was agreed by
both
Rudahog and Aradel, and not for no small reason. I would as soon not reveal it, but I care little if it is.
Your
lies
involving your agents though, anger me deeply, we have their confessions and evidence of them in the act of inciting and spying and
continuing
attempts at infiltration, and any other nation's intelligence forces can feel free to come and interrogate these agents themselves. We will show the evidence we have found, and I'm sure it will collaborate with other private investigations. In Ahsar, we have taken no actions beyond attempting to keep peace and defend ourselves from Aradel attacks, both from military assaults and espionage invasions.
And as for the sake of Ahsar. Big words for one whom did nothing in attempting to stop the
necessity
of the breaking of Ahsar. Rudahog tried and tried to stall the eventual invasion, to make peace and regain an alliance with Ahsar after their puppet king Kasper was elected due to foul sorceries. Where was Aradel then? No, Aradel only entered the scene when war was the only option to avoid the creation of a super-weapon in a puppet-state of Addoban amidst the Heartlands itself, and even then, only to sent a token force so they could lay claim to territory.
Yes, there is a responsibility Rudahog owes to Ahsar, one which we bear due to failing to protect them from Addoban's influence, to stop their leaders and nobility from inciting and funding riots in neighbouring lands and attempting to develop their own super-weapons, and in finally having to put down their leaders and nation ourself, in an act which was done mostly by Strasidel and Rudahog. I at least am attempting to bear responsibility for it, but it seems strange that you judge me for not being able to rapidly do so, since it is hard to make steps towards repairing the damage we did to Ahsar, when we have your foreign agents deliberately creating malcontents against us and when you force war to be threatened again. If you truly cared about our "responsibility", then why, since you apparently feel you also directly and substantially contributed to the overthrowing of Ahsar and so are privy to some responsibility yourself, are you causing the citizens of Ahsar to rise against the great powers, just as Addoban did?
---
"One day you wake up and realize the world can be conquered." - Doctor Impossible
05-28-2017, 01:33 PM
(This post was last modified: 05-28-2017 01:38 PM by Vancho1.)
Vancho1
"A brave little theory" - Prokhor Zakharov

Posts: 1,866
Joined: Apr 2013
RE: Spheres of Influence
The Republic, now aware of the continuing use of the skeletons from Ahsar, demands that Rudahog immediately destroys them and returns the remains to their families if we are to continue to support Rudahog. We also demand that reparations be paid to the families of the deceased.
---
The one, the only, Vancho!
05-28-2017, 01:41 PM
MQuinny1234
Totally not a Witch

Posts: 2,359
Joined: Aug 2013
RE: Spheres of Influence
Rudahog will issue the command to begin returning and putting down the skeletons raised by the Dark Hand. We will do what we can to sort them but, they are mindless skeletons so...We will do what we can to make up for that then.
---
"One day you wake up and realize the world can be conquered." - Doctor Impossible
05-28-2017, 02:27 PM
Palamedes
The Witchiest

Posts: 7,726
Joined: Apr 2013
RE: Spheres of Influence
Empress Jagan's frustrations are understandable, but Arcavat requests that she not downplay the fact that while Rudahog's forces were busy waging war halfway across the heartlands Aradel's were getting into a position to buy the time necessary to atop Addoban from holding the Heart of the World and enacting his terrible plan. Their people, along with those of the southern heartlands, paid heavily in blood to do this.

She would be asked to not try and besmirch one who played such an important role in stopping Addoban, especially by suggesting cowardice and inaction - or being similar to that vile being.

In addition, it is worth suggesting that Ahsar might be served better by the fighting great powers simply dividing them into equal semi-independent spherelings, as it is doubtful that they will easily forgive Rudahog's actions or forget their distaste for Mortemia - it might make rebel actions and a transition to a peaceful situation in Ahsar more possible.
05-29-2017, 12:01 PM
RE: Spheres of Influence
The issue with continuing to use those skeletons is that it is both demeaning and disrespectful to the slain civilians and their families alike, but more importantly, their continued existance acts as a constant drain on the essence of their trapped souls. Caring about their deaths but not this seems somewhat hypocritical. Still, the dragon is glad that Rudahog is willing to acquiesce the matter, and allow them a proper burial.

If the agents of Teór Aradel have indeed been inciting rebellion and causing sabotage beyond the dawn of Jagan's reign as Rudahog seems intent on insisting, this has not been by the dragon's orders and is either a serious breach of professionalism on their side, or a third party manipulation of some manner. Their orders were simple and straightforward and involved a level of espionage, yes - and fortunately so for the souls of those slain civilians. While it is true that they had a hand in early Ahsar protests as retribution against the Dark Hand's warcrimes, this was ceased upon Jagan's coronation. Any further rebel activity in Ahsar is, perhaps, owed simply to the Ahsarites not liking Rudahog very much. If Rudahog is intent on pressing these accusations, the dragon should certainly like to review this supposed evidence that they claim to have.

Lastly, the Rudahogian scientists are kept separate from any involvement in the project, and nothing has been asked of them save for their cooperation to confinement. While this may ultimately have been in somewhat poor taste, the dragon will not react to ill-placed threats, and will not simply turn them over to Rudahog. However, he is willing to consider other options.
05-29-2017, 12:35 PM
Palamedes
The Witchiest

Posts: 7,726
Joined: Apr 2013
RE: Spheres of Influence
Arcavat suggests that perhaps an international commission should look fully into both party's claims and evidence so as to make the decision, as it is unlikely that either Rudahog or Teor Aradel will make reports that will damage their own reputation, and so will otherwise be innately biased in their presentation.

On this note, Arcavat again requests information relating to the discovery and capture of Ahsar's superweapon and its plans, which have supposedly been made available on request but as of yet have not been provided to us after we requested it some time ago.

Finally, Arcavat requests that at the very least the scientists be moved to a nation uninvolved with the war to allay fears of mistreatment, and a clearer reason as to why Teor Aradel must hold them if they are no longer part of the project and apparently to be returned to Rudahog at a later date.
05-29-2017, 02:11 PM
MQuinny1234
Totally not a Witch

Posts: 2,359
Joined: Aug 2013
RE: Spheres of Influence
If any want information on the discovery of the superweapon, they are welcome to come and request for it. We had no qualms about hiding the evidence for such a suspicion, so we don't know why you don't have the information if you asked for it. Currently, Herinhia has been allowed their independance in verifying certain claims as they wish in this conflict, that seems enough for now.
For the matter of the undead, The Dragon may wish to try and debate about this, but it is not actually relevant to the matter of Ahsar and the actions they have taken in it. The slaughter of innocent civilians is a separate tragedy, to anything involving disrespect and the draining of souls. If they wish to quibble with the morality of reanimation and it's use thereafter, as well as the nature of souls, there is another expert they may talk to. Like I said though, I am willing to lay them to rest and make good on repaying for the sins of my fore bearer.
Relevant to the Ahsar issue though, is Aradel's infiltration, the evidence to verify my claims
is
available to any of Rudahog's allies if they wish it, as I have previously said. Perhaps the Dragon was not aware of the extent of their actions, but their actions remain Teor Aradel's actions. Including the influencing of Ahsar's opinions which were already troublesome for us to deal with and we were attempting to rectify.
To Arcavat specifically. Teor Aradel did pay in blood. They were a valuable ally against a vile menace, as you said. Their deeds of valour then do not excuse their craved acts taken now though. We all bled in the fight against Addoban. Rudahog fought on
both
fronts of the war, do not forget that. We fought our own ally turned upon us by Addoban, helped hold back Addoban's advance in your lands, and tore him down from the Heart of the world. The record of our contributions and actions speaks for itself, good and terrible.
Again, we will request the return of our citizens. Their imprisonment is completely unjustified. If our participation in the research had simply been terminated and our people sent on their way with no reward for their effort in the project, that would have been one thing, but for them to be trapped too? Poor taste seems a petty way to put it but it is the only way it can be put without open insults.
---
"One day you wake up and realize the world can be conquered." - Doctor Impossible
---