08-11-2013, 01:23 PM
(This post was last modified: 08-14-2013 07:31 PM by The Necromancer.)
Nevermore.jpg
(Hello everyone!
Everyone's least favorite mod and bone enthusiast The Necromancer here and I am here to bring you the first in a series of RPs I am going to start. This one is a stand alone and takes place in a blood swapped AU of our cafe canon. I'll release an informational post later about the details of my plans for cafe canon RPs after we discover if this sinks or swims.
Don't expect this one to go on..and on...and on like some other RPs. My goal with these is to have quick and happening RP for both the participators and readers! You heard me correctly. I am giving a shit about the reader! All two of you! Anyways enough about my ideas and plans.
This RP will involved four players: Silvy, iffy, Katt, and Myself. Each of us will be using two trolls and we will be playing them along their journey for treasure.)
You are SEMOCE HOGLAZ and today is the day your lusus has felt you are coming of age. Why he has chosen 7.5 sweeps is beyond everyone. There is NOTHING significant about 7.5 and there never will be. Much like in your WRIGGLINGHOOD you feel like he is just lulling you into a false sense of security only to pull away the metaphorical bait of acceptance and terrify you. But TERROR is an important part of your life. So important and special to you that you have decided to share it with everyone around you. Of course this has lead to no one being left around you. Your only friends being the lifeless SCARECROWS out on your front sand. They are especially lifeless in the fact they're made out of trolls you've slain. Your trolltag is
ornithoPhobiac
and you type like
The wicked lord of fuCAWin' terror should. You fear what I'm sayin'?
>
======>
You've gone to great lengths to make sure everyone feared the name SEMOCE HOGLAZ and as your reward you live a lonely life. Some days you just look out your hole in the wall and imagine what life would be like if you weren't such an irredeemable FUCK-HEAD. But how will you spend tonight? Oh? It seems your Trollian has gone off. Perhaps you are not as much of a lonely fuck-head as you think!
>
Semoce: Check your husktop.
Drats! It seems it's just your MOIRAIL, Lenora. She can be so heavy handed with her moiraling sometimes. Lets dive head first into what ever nonsense she is bringing to the king of fear.
>
======>
>
======>
It seems your moirail lived up to her reputation. But perhaps you were too hard on her? Nah, she has steel wool. Your harsh words and uncaring approach to your moirallegiance is only making her stronger. She needs it! But now isn't the time to lament on your shitty fucking attitude, your LUSUS is summoning you.
>
======>
---
The only important quote ever. Thanks to Silvy.
08-11-2013, 06:54 PM
(This post was last modified: 09-13-2013 06:06 PM by Silvy.)
Silvy
FR*CK YOU

Posts: 587
Joined: Apr 2013
RE: Nevermore.
>

======> . . .
-- cheekyGoats
[CG]
began trolling ornithoPhobiac
[OP]
at 21:26 --
Ugh!
You swear, he does this kind of shit on purpose. What a shitty fucking moirail, why the fuck do you even fucking put up with that piece of shit jesus fuck. You just don't know anymore.
Well, actually, it's probably because he's the only one that'll put up with you for that long. Probably. You don't give a damn anymore. Fucking bird-brained asshole
CAW
-ing everywhere and not getting NEARLY enthusiastic enough about your new clothing. SEMOCE HOGLAZ, more like, SEMOCE TOO-FUCKING-LAZY-TO-SHOW-THE-PROPER-ENTHUSIASM. But anyways.
You GUESS you should introduce yourself, though, before you bother to go talk to a troll that WILL appreciate your amazing fashion choices.

You go by LENORA AUXILA, you are 9 SWEEPS OLD, and god dammit you're the BEST troll on the entire planet, no matter what your shitty moirail seems to think. Yeah. Continuing to call him shit definitely cheers you up somewhat. Anyways, you enjoy FASHION (to some degree), FISHING, and BEING YOU. You ARE pretty great, you mean, you are the only LENORA AUXILA in the entire existence of the trollian race. That makes you better than everyone else.
Of course, one as SPECIAL as you must take time aside daily for the LESSER BEINGS. Your very few FRIENDS require attention, and you make sure to give them the attention that they crave by indulging them in various conversations throughout the night. Of course, there are special friends that are actually more than friends (See: Semoce), and they require even special-er treatment (See: Maybe a few more conversations than normal). In order to talk to them, you use a chat client called TROLLIAN, on which your trolltag is
cheekyGoats
and you
||ncorporate your lus||'s horns |nto your speech.
"
But enough about Semoce and his shit-head attitude. You're done talking about him for tonight. It's time you actually talk to someone who that will REALLY appreciate your fine tastes.
>
======>
-- cheekyGoats
[CG]
began pestering perennialAshray
[PA]
at 23:52 --
>
======>
Ha! Hahaha! Well. That probably could've been handled better. But, whatever. As you said, you actually do hear Oats rummaging through something again, so you should probably go check that out.
---
08-12-2013, 01:12 PM
(This post was last modified: 08-16-2013 06:19 AM by immortalMemelizer.)
RE: Nevermore.
>

======> Be the Jilted Seadweller
Oh my! Seems that she shut you down rather quickly. How rude. You don't tend to like it when flippant little trolls like that show you such blatant disrespect. She really got you good. Some might even say that she got your goat. Fish. Goatfish. Yep.
Well, regardless, you can't let that slide.
>

======> Proceed with the shitty introduction post already!
Hey now, let's not be too hasty! You can't rush perfection. Which is exactly what you are. PERFECTION. You are the PINNACLE of perfection in your race. You surpass excellence. You are simply the best there is- and you don't take kindly to anyone saying differently.
Your name is
DOLSEA
DOLCEA LACENS, and you are a 9 SWEEP OLD SEADWELLER, as if that last part wasn't obvious. You have a love of CLEANLINESS, SHOES OF ALL KINDS, TRICKERY, and using your own POWER to get what you want. You also have an obsession with PERFECTION, which has manifested more in what you demand from others than yourself, as you have already achieved perfection. You're currently working hard to perfect your next project: your MOIRAIL! Your trollian handle is
perennialAshray
, and you talk like
kiiind of an airhead sometimes, not to mention that you're suPer crazy about Puns and nicknames, dollface!! ~~0v0~~
Right now, you need to plot about how to get back at that sassy lowblood who thinks she's on par with you. The first thing you're gonna do is-
You don't have time for this! You've got bigger fish to fry. Then again, you
do
know someone who could use the socialization.
---
-----

the immortal meme

08-12-2013, 03:12 PM
(This post was last modified: 09-25-2013 09:32 AM by Hayarp.)
Hayarp
Resident Elitist Bitch

Posts: 852
Joined: Apr 2013
RE: Nevermore.
>

======> Practice Speaking to Trolls that Aren't your Moirail
Why would you want to do that? It sounds pointless. Besides, what if she's some gross landdweller or something? Dolcea wouldn't make you talk to a landdweller, would she?
>
======> Just listen to your moirail goddammit.
You guess you will. But first, why don't you introduce yourself?
Your name is
ALCSEA
ALSCIA CHIONI, and at only SIX SWEEPS OLD you don't have a care in the world.
Well, except the landdwellers. They're TERRIFYING. Maybe it's just because you're a SHUT-IN and have had barely any contact with them, but you're pretty afraid of landdwellers. And being on land in general. If it wasn't for your PUSHY-AS-FUCK moirail you'd be living your days happy as ever doing the things you like: SLEEPING, READING, and occasionally SCULPTING. It's too much effort to do other things like eat or leave your hive or socialize.
Instead, you have to spend time being harassed by your moirail on trollian. Your handle is
sublimeScholar
, and you
>>speak wIth an aIr of superIorIty, emphasIzIng the nobIlIty of your caste.
Are you really going to do this? You don't really have much of a choice, you guess. Whatever, maybe it'll be a short conversation. It'd better be a short conversation.
---
Hah. Never expected to see me here again did you?



[Roleplaying Tumblr]


floaties by overlard!
08-13-2013, 08:54 AM
RE: Nevermore.
>
Get fed up with valley girl drama
You are Semoce Hoglaz again and it seems your lusus has you on the anxiety trials of dread. Currently you are fending off the trepidity wraiths with your PITCHFORK and CHUCKLE VOODOOS. Previously you had travelled the forest of dread, climbed into the caverns of panic, swung along vines of consternation across the river of alarm, broke through the wall of dismay, and put together the three parts of the silver monkey. You are so close to finishing this merry-go-round of frightful nonsensical bullshit you can taste it. Whatever this book is that is to be your reward better be worth it. If you see one more synonym of Terror you might just cull half the coast line.
>
Return to teen age drama. Maybe talk about Nic Cage at the beach.
---
The only important quote ever. Thanks to Silvy.
08-20-2013, 05:48 PM
(This post was last modified: 09-13-2013 06:07 PM by Silvy.)
Silvy
FR*CK YOU

Posts: 587
Joined: Apr 2013
RE: Nevermore.
>

======> Nic Cage at the beach
Well JEEZ, you never thought one of your own caste could be so cold. Guess you learn something new every day.
>

======> Introduce Yourself
Ooh! Well, since peeps seem to be so interested in what you're all about, ok.
Your name is SILVER APELLE and you're a seadweller (which should be obvious) of 8 SWEEPS. Your main passions are PAINTING, COLLECTING PRICELESS ART, and SWIMMING AROUND your HIVE, which is nestled into the GREAT BARRIER REEF-RIPOFF of Alternia. There are normally a lot of fish around this area, so you've also taken to, well, FISHING. AKA tying a net between your large and impressive horns while you swim. You always come back with a great catch, and sometimes great ideas! Like tonight, you've got this great GREAT idea, but so far, no one will listen to you. You're going to try one last time, with a friend you know will listen.
Onto TROLLIAN you go, then? You guess. Oh! Wait, you should probably inform whoever you're talking to what your trollian actually is.
Your TROLLIAN is
tumblingPigments
and
yer so fuckin chillax about yer quirk yer 100000% positive tha it's fuckin inconsistent as shit
>
======>
-- tumblingPigments

[TP]

began pestering velvetVarnish

[VV]

at 02:04 --
>
======>
'Ah yes,' You'd say, sniffing the air in your hive triumpantly, 'The smell of friendship. Isn't it great?'. Of course, no one is there to agree with you, but, still.

Instead of wallowing in the loneliness that accompanies living underwater, you're just gonna paint instead. Go bother some other loser, or something, you tell the audience.
---
09-07-2013, 09:25 AM
(This post was last modified: 09-25-2013 09:33 AM by Hayarp.)
Hayarp
Resident Elitist Bitch

Posts: 852
Joined: Apr 2013
RE: Nevermore.
>

======> Be Some Other Loser
Hey, you're not a loser! You are definitely the opposite of a loser, that's what you are! You even own a successful business!
>
======> Just introduce yourself dammit.
Okay, okay. Man, these commands are getting awfully pushy. Gotta just relax, man.
Your name is KAPTEY DEVATA, and you are not a LOSER dammit. You're only EIGHT SWEEPS OLD and already own a successful ART GALLERY which is situated in your hive.
You just love ART, man. You love to paint and to draw, but keep those things on CANVASES and WALLS, which is where they belong! And the best way to enjoy them is after smoking some SWEET LEAVES from the trees that grow outside your hive. When not doing art or trying to discover the secrets of the universe, you like to walk around town and the surrounding areas, EXPLORING. If you didn't like your hive so much, you'd probably be some sort of weird vagrant traveler who can't stay in one place. Good thing you're not!
You are also quite social, and like hooking up with other artists via trollian. Your handle is
velvetVarnish
, and you
speek withh en exotic eccent, but vou hheve e bit of trouble breethhing sometimes.
>
======> Kaptey: Appreciate some fine art.
You can't do that yet! Your head is way too clear for you to understand the laws of the universe as they pertain to artistic expression! First you've got to go outside and appreciate nature a bit, man.

>
======> Kaptey: Go outside and appreciate nature a bit, man.
You do just that. While lying sprawled out on the ground, you have an epiphany about the stars. Naturally, you just have to tell somebody about this, and you know
just
the guy to mesage about it! Good thing you brought your phone out here.
Well that wasn't disturbing at all. Maybe you should go see if he's okay.

Or you can just lie there and think about the universe. That works too.
---
Hah. Never expected to see me here again did you?



[Roleplaying Tumblr]


floaties by overlard!
09-13-2013, 04:19 PM
(This post was last modified: 09-13-2013 04:20 PM by immortalMemelizer.)
RE: Nevermore.
You are the man. You are THE man.
>

======> Yeah ok whatever, you big baby. Introduce yourself, ya dirty hippie.
Your name is PIERMO COPACH. You have TEAL blood, you are 7 SWEEPS OLD, and you enjoy long walks through the forest to appreciate nature and beauty, tokin' up, yoga, liftin' weights, decorating your RIDICULOUSLY LONG HAIR, and you hate being MISTAKEN FOR A GIRL like you usually are, as well as any kind of SCISSORS and holy shit does none of that matter right now because you are fucking TERRIFIED. Your trollian handle is
genialAdherent
, and when you talk,
you takE grEat mEasurEs to appEar manly and somEtimEs talk through your tEEtHHh to calm yoursElf tHHhe fuck down.
You've lost sight of the creepy redblood. No need to lose your cool. You're chill. Whew, haaaa...deep breaths. Don't forget to breathe like last time. It's fine. He can't have gotten too far. Maybe you'll just slowly start to inch towards the window and...take...a...little...peek...
FUCKIN SHIT
---
-----

the immortal meme

09-23-2013, 10:10 AM
Silvy
FR*CK YOU

Posts: 587
Joined: Apr 2013
RE: Nevermore.
>

SHIT
Your name is SEMOCE HOGLAZ and this is it. This is your time to shine. You've got your opponent trapped, at your mercy. You can feel the power building up in you, the quality of this comic rising as your opponent shakes and shivers in fear.
>

See?
Ah. The pure terror in its gross, deformed, ugly eyes as it shivered and shook like a disgusting yipbeast. The quiver of its lips as it tries to beg for its life in a language foreign to you, the wobble of its knees as the terror takes over and threatens its ability to stand. Ah, its delicious.
>

Quit bragging and just off the poor creature already
You give the audience an exasperated look, before sighing dramatically. Fine, you guess you can just stab the poor creature and get it over with. You pull back your pitchfork and charge towards the enemy, watching it's eyes widen in terror as you go to stab its lights out and...
* TRIP *
Shit. Fuck. You did it again. Goddamnit. Fuck. Not again. You did it again. Shit.
>

This is just embarrassing. Why don't we go to someone else?
---
10-15-2013, 04:23 PM
(This post was last modified: 10-15-2013 04:25 PM by The Necromancer.)
RE: Nevermore.jpg
>
Reveal Final Character
You are
Ub
- Wait what? You are a Cut-out decoy! Used to terrify witless gypsies your creator comes across. Who is your creator anyways? He was here a second ago....
>
Catch up with the trotting Hatter.
This is
Ublich Dopant
. Humorous little terror of the swamp.
>
Be The Hatter
No, it seems he is still he and you are still you. He is not like many of the other trolls, his faculties are not controllable let alone understandable. Some rumor all his faculties may not even be there!
>
Be The Hatter
"
Pardonne-moi, but how could you control wHAT has yet to control it's self?
"
>
Try to learn about the Hatter
"

Allow moi to take over from here. Heheh.. You see I am merely a modest, yet productive, apothecorruptor. Unlike some I am willing to do wHAT is takes to survive on this harsh planet. Heheh...and survival is exactly wHAT our little tale is all about. Now come with me, cheri. I have much to tell.

"
>
Follow the Hatter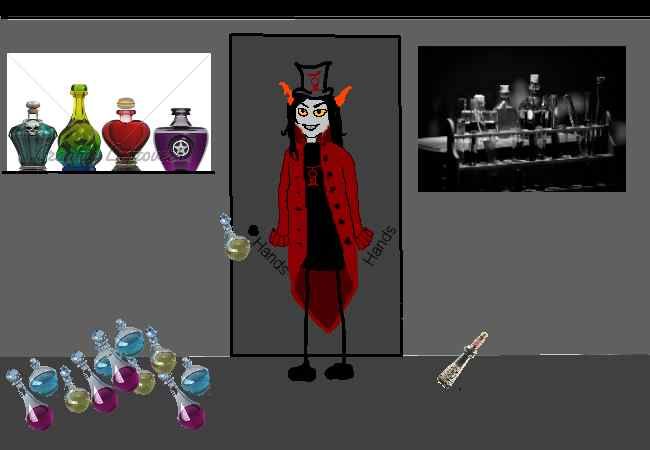 "

You follow me to my hive. The hive is small, yet well purposed. I seem to have done away with a respite block and even a commons. In place is this wondrous lab before us. Who needs rest and company?

"
>
Compulsively laugh against your will.
>
Explain whats going on.
"

Ah yes, you are probably wondering wHATs going on here. I'm your narrHATer now. But not for long. I am an actor in this tale after all. But dry those eyes cheri. I will still be around, waiting. I wont let you miss any of the precious details on how this story really happened.

"
>
Show the juicy details, you crack pot.

"

So soon? PHATients, cheri. Well, perhaps we could take a look closer HAT the happy pale couple

"
>
======>
---
The only important quote ever. Thanks to Silvy.
---